Expert Dishwasher Repair Since 1981
We're factory-authorized to work on most dishwasher brands, and we carry a range of parts on our trucks so that we can finish your job quickly. Call 316-219-9619 with questions, or to request service.
We service:
Established in 1981, Reddi Appliance Repair serves Wichita and the surrounding area. We're fully accredited by the Better Business Bureau, and we're licensed, bonded, and insured for your peace of mind.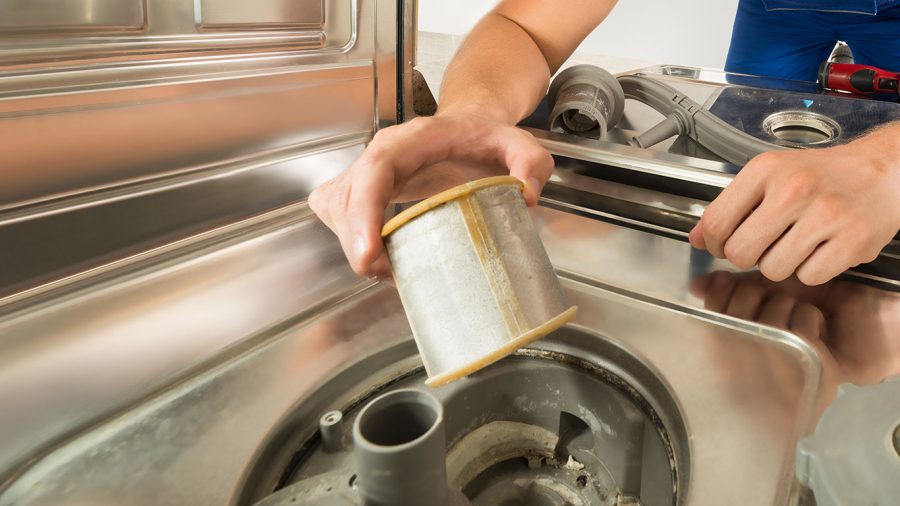 We provide dishwasher repair service throughout Greater Wichita. Call 316-219-9619.
Common Dishwasher Problems
Dishwasher Isn't Draining
If your dishwasher isn't draining, or drains slowly, there might be a really simple fix that you can do on your own.
Check the filter – Most dishwashers have a filter inside the unit. This filter catches any debris before it goes down your drain. A clogged or dirty filter can cause water to drain slowly, or not at all. You can clean this filter yourself quite easily. Check your owner's manual for instructions.
New garbage disposal? – Make sure the disposal's drain plug has been removed. Sometimes when new garbage disposals are installed, people forget to remove the plug on the hose that connects to the dishwasher. This will leave standing, often soapy, water in your dishwasher after you run it. Make sure you consult a plumber, or the person who installed the garbage disposal before attempting to remove the plug. You'll want to be careful because just like your dishwasher, garbage disposals are connect to electricity.
Dishwasher Smells Bad
See above, it's probably the filter. If not, check the machine carefully. Old food can get stuck in strange places.
It's also possible something has meted onto the heating element. Check your owners manual for cleaning instructions. A good cleaning is usually a simple and safe do-it-yourself fix for a smelly dishwasher.
Dishes Don't Dry All the Way
Is the heat on? – Sounds silly, but it happens. A lot of modern dishwashers allow you to change the drying/heating settings. If you've inadvertently changed this setting, that could be why your dishes aren't drying. Check your owners' manual to make sure you have the correct settings.
Rinse/Drying aids work – Most dishwashers require a rinse aid. If you're not using one, that could be the problem. If you're using multi purpose or all-in-one tablets with the rinse aid included in the detergent, try using separate products to see if your results improve. A rinse aid will also make your glasses come out cleaner. White or cloudy glasses are often a sign of water build up during the drying cycle.
Dishwasher is Leaking Water
First, see if you can identify where the water is coming from. You could have a leaky dishwasher, you could also have a plumbing problem. After the dishwasher has run, check the water connections to and from the unit. Check the pipes that lead to the water source. Check the garbage disposal if one is connected. If you can find the source of the leak, you'll have a better idea of how to handle the problem. If there's a handyperson in the house, you may choose to repair a small leak your own. Make sure you consult your instruction manuals first, and always exercise care.
If the area around the door is leaking, inspect the door carefully. It's not uncommon for door gaskets to get old and crack. This may require a new gasket. Make sure the door is closing correctly, and you can't see any gaps. Sometimes debris can get stuck on the gasket or door, causing water to sneak out. If you clear an obstruction, this may solve the problem. If you have a bad gasket, you'll want to have it replaced with a new gasket designed for you dishwasher brand/model.
If you can't tell where the water is leaking from, it's probably best to call an expert. We're able to repair most dishwasher issues quickly, in one visit.
If you're having bigger issues, such as loud noises, a dishwasher that won't start, or major leaks, you may need a professional repair. Other common problems we can assist with include:
Bad Heating Element
Water Inlet Problem
Damaged Spray Arm
Bad Float Switch
Vent Fan Motor Issue
Leaking Hoses
Broken or Leaking Rinse Aid Dispenser
Bad Thermostat
If you have questions, or need a dishwasher repair in the Wichita area, call us.