Dryer Repair in Wichita
We work on all brands of clothes dryers in the Wichita, KS area. Whirlpool, LG, Samsung, Maytag, Amana, Kenmore, GE and more. We're factory authorized for most brands, and normally provide same day service.
For Service Call:
If your dryer isn't adequately heating, is taking too long to dry your clothes, or has stopped working altogether, give us a call for an assessment. We offer flat rate pricing, with no surprise charges.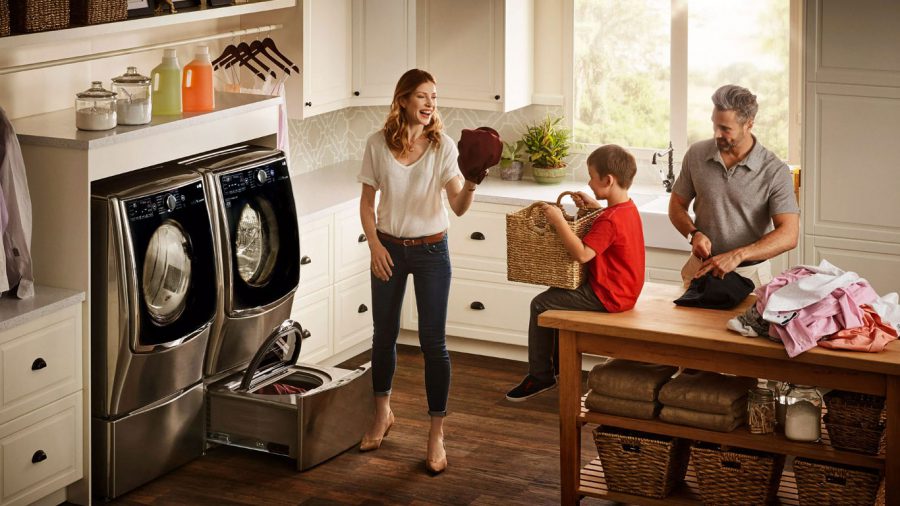 Clothes Dryer Care
Most dryers last 10-15 years under normal use. Performing some routine maintenance can help your dryer last longer and operate more efficiently. Identifying problems early can also help prevent major breakdowns. Here are a few things you can do to maintain your dryer.
Clean The Vent and Exhaust
This should be done every year to reduce fire risk and improve efficiency. The vent hose is connected to the back of your dryer, and it leads to an exhaust outsider your house. Lint can build up in this hose and exhaust. When you clean the exhaust, you should also check the outside vent hood for proper operation. Make sure there's no debris or objects blocking air flow. You may need to clean exhaust more frequently if your dryer gets heavy use. A few signs that it's past time for a cleaning: Clothes take longer than normal to dry, the outside of the dryer is hot to the touch, or if you notice a burning odor when the dryer runs.
Don't Overload the Appliance
A dryer that is too full does not work as efficiently as it should. This means your clothes will not dry as quickly, and you may be placing extra strain on your dryer's motor. A properly weighted load will allows all of the moving parts to work as intended by the manufacturer, which will help extend the life of your appliance.
Check The Lint Trap
Remove the screen and see if there is any lint build up inside the compartment. You can get a dryer lint brush at most hardware stores to make cleaning the trap easy. It's also a good idea to periodically wash the lean the lint screen with soap and water. Consult your owner's manual for the proper cleaning method.
Clean the Dryer Drum
Use a damp cloth to wipe down the drum and remove grit. If you have residue build up, you can also use a little dish detergent and a sponge. Wipe down your dryer's interior about once a month. Unplug the appliance before cleaning, and consult your owner's manual for proper cleaning methods.
Air It Out
Over time your dryer can develop mildew and unpleasant odors. Occasionally leaving the lid open between uses will allow moisture to escape, and the the drum to fully dry.
Repair Help
If your dryer has any major mechanical issues, it's best to call an expert repair shop. Many repairs will cost less than replacing your dryer.