Same-day Service for Microwaves
We fix over-the-range, built-in, drawer, convection and countertop microwaves in the Wichita area. We reapir any brand, and we're factory authorized for many.
A microwave typically lasts about ten years. So if you're considering a repair, you should also consider the age and cost of the unit. If it's an older model and the value is less than $175, it's probably best to replace it rather than reapir it. Most countertop models aren't worth the price of a repair.
Microwave repairs are more cost effective if you have a high end or built-in model. These units can cost several hundred dollars, plus installation. If you'd like to schedule a repair, give us a call:
An older or defective microwave might fail instantly, but it may give you some warning signs that the end is near. Here are a few things to look out for as your appliance ages:
Food isn't cooking within suggested times.
Parts of foods aren't fully cooked.
Burning smells when cooking.
Buzzing and electrical sounds when in use.
You have to push the buttons more than once.
Sparks inside the until.
If you experience sparks, burning smells, smoke, or if you the door doesn't close correctly should shout stop using the microwave immediately. Unplug it and either replace it or have an expert check it out.
Question?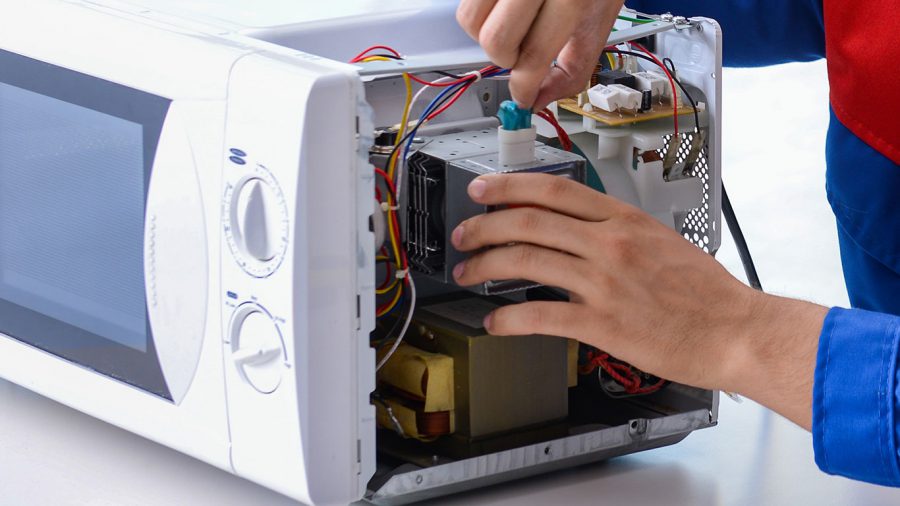 We repair most brands of microwaves including: KitchenAid, Cove, Samsung, LG, Thermador, Roper, Viking, Maytag and more.
An Easy Way to Clean Your Microwave
It's amazing how dirty a microwave can get. Most spills and splatters can be wiped up with a damp sponge, or a mixture of warm water and a mild dish soap. If your interior needs a deeper cleaning, here's a little trick that works surprisingly well.
Put half a cup of water in a bowl. Squeeze a lemon into the water. Leave the lemon in the water. Microwave for 3-4 minutes. Allow the water to come to a boil. Let stand for 5 minutes. This should make it very easy to wipe away the grime with a towel. You can repeat this process if the first round didn't quite do the trick.